These low temperature performance heat pumps feature HyperCore Technology, with super energy efficient performance andfully rated capacity down to -15°C. Featuring 3D i-See Sensor, Dual Split Vanes, Natural Airflowand Plasma Quad Filtration, this range is truly the flagship of all heat pumps.
Features of this Series
The HyperCore FH High Wall Series truly is the flagship amongst Heat Pumps
HyperCore Technology
NZ's Best Heating Performance in Cold Conditions
While ordinary heat pumps produce less heat below 7 degrees, only Mitsubishi Electric HyperCore® Technology guarantees its fully rated capacity right down to -15 degrees so you get all the heat you paid for. If you experience cold temperatures and/or high humidity during the winter months then a HyperCore FH High Wall is perfect for you. HyperCore ensures superior heating performance, regardless of outdoor temperatures. As the graph (right) shows, even though both heat pumps are rated to provide 6kW of heat, their performance differs greatly as the temperature drops. While the standard heat pump produces less heat, the FH50 6kW HyperCore High Wall model continues to deliver the full 6kW you paid for. The best low temperature performance heat pump ensures you receive warmth when you need it most.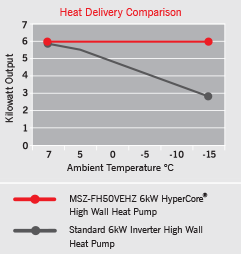 Energy Efficient
The Deluxe FH Series are some of the most energy efficient heat pumps available in New Zealand. The FH25 model even boasts the maximum 6 star energy rating in heating – which means superior energy efficient performance all winter long.
Low Standby Power
Many electrical appliances still consume power while left in standby, having a real effect on your power bill. The new Deluxe FH Series, incorporating cutting edge power reduction technology, boasts 1W standby power, a reduction of around 90% on previous standby power consumption.
7 Day Controller
Allowing you to program up to four settings for each day of the week, you can come home to comfort without having to manually adjust the temperature. Perfect for anyone with a busy lifestyle, the 7 day controller is a great way to regulate your energy usage without compromising on comfort.
Wi-Fi Control Upgrade
With the addition of award winning Mitsubishi Electric Wi-Fi Control, you can control and monitor your heat pump from absolutely anywhere via your smartphone, tablet or online account.